Thursday, August 25, 2011
12:14 AM
|
Posted by African Fashions
|
|
Edit Post
It would be endless to talk about the African's culture, especially for the clothing. Now, we will talk about the African bridal attire for women and men. Although there are many changes in bridal attires for women and men, the African people still keep their original style of the wedding attire.
Women's Attire
Like the common brides, the African women wear the expensive and elegant clothes for their wedding day. The West African people usually hold a big wedding ceremony in their environment. For the attire, they usually wear a traditional african blouse, an iro ( a long wrap which looks like skirt) and also a gelee (head wrap).
The gelee which is worn by woman can be very large and intricate. The wrapper is made from embroidered fabrics.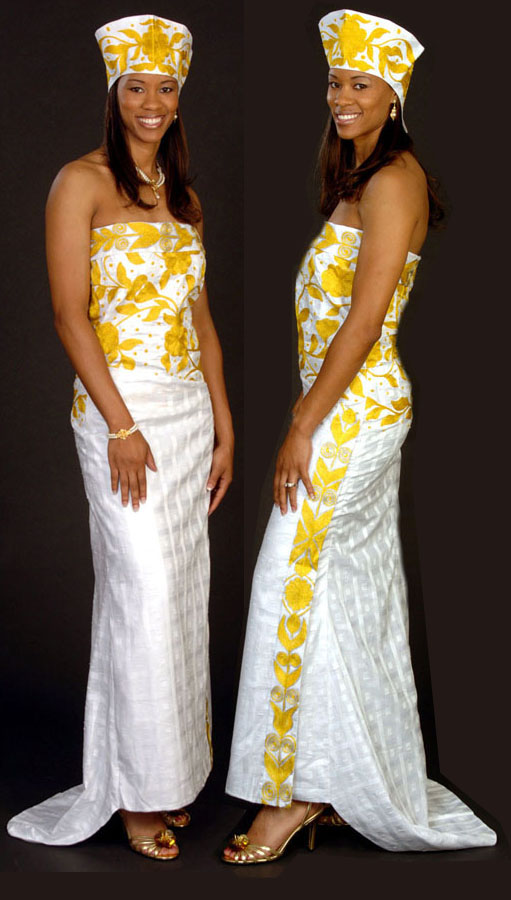 Men's Attire
The African men wear a fila which can be called as kufi (a round box hat), sokoto, and a dashiki or boubou (a long robe) for their wedding ceremony. There is also a tradition that the men should wear their fathers' dashiki or their grandfathers' boubou. Both of the clothes are made from embroidered fabrics.
Popular Posts
Dashiki is one of traditional african men's outfit which has become a trend as african attire. The dashiki was initially patented as a tradi...

These days, African clothing designs are in outstanding demand since they are tremendously exclusive. Although Africans had their individ...

One of the most important and happiest things that will ever happen in your life is your marriage so you will naturally consider it fine to...

One can find thousands of types of African dresses and there will be more to find. Because of the vastness of the African tradition, Af...

Yesterday, I went to this vintage store in the outskirt of Johannesburg and I saw these beautifully-crafted designs of a common African hat...

Africa's prolonged history involving colonization, interior strife, in addition to being a method to obtain slave job has stirred the...

Maybe the fashion show in Ghana which is held approximately one week event is a common event for the African fashion lovers. This fashion e...

If you wish to know different aspects of South African continent, learn clothes code first. Where different countries may have a one-siz...

Most women have their own desire about their appearance, so do the African women . You have the same opinion,right? Usually, look slimmer ...

Blog Archive